• Homme Wrap • Pattern making • Pattern Tutorial • tutorial
Hey mates, today I'll be showing you how I would do a FBA on the Homme Wrap. First things first, do you need an FBA? There are a few ways to tell if you need to do an FBA. If your full bust measurement is larger than the full bust measurement that corresponds to your high bust measurement in the size chart. Also, if you've sewn a toile and there is tightness in the bust, the fabric is pulling forward at the front armhole, or there are drags lines radiating out from the bust. It's always worth checking the finished...
---
• Fremantle Pants • Pattern Tutorial • Trigg Shorts • tutorial
I get a lot of feedback that my pattern instructions are clear and easy to follow, but I know that some techniques are better shown over video. Which brings me to my first (poorly filmed) video tutorial. Watch me in all my awkward glory, showing you how to sew the waistband for the Fremantle Pants and Trigg shorts. This video is intended as a supplement to the written and illustrated instructions that come with the sewing patterns. It's not a standalone tutorial. So if you're keen, you can buy the patterns here! 
---
• Pattern Hack • Pattern Tutorial • Sanders Button Up
Good news mates - if you're looking for a plainer alternative to the front yoke/pocket scenario of the Sanders Button Up - it's super easy to remove this seam line and create one pattern piece.  I will also show you how quick and easy it is to remove the seam lines/panels on the lower half of the back to have one flat pattern piece without the shaping (if you'd prefer a boxier fit).  First things first, if you haven't already purchased the pattern, you can buy it here. For a plain front: Take the Front Yoke and Front pattern pieces....
---
• maynard dress • Pattern Tutorial • Sew along • tutorial • zero waste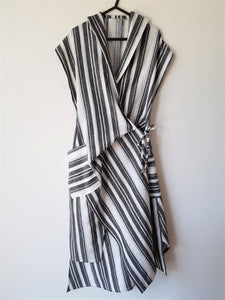 Hey folks, this is a post for anyone who's purchased the Maynard Dress and wants a little extra visual info! I wouldn't recommend using this blog post in place of the PDF instructions - as the PDF is filled with clear, easy to understand line drawings. Consider this post supplementary! If you haven't already checked out the blog post on cutting out the Maynard Dress - you can find it here. I've used gorgeous fabric from The Fabric Store for this sew-along. I wish I'd checked the fibre content when I was at the shop so I could let everyone know...
---
• Fremantle Pants • Pattern Hack • Pattern making • Pattern Tutorial
Hello again! Today's post is a continuation from yesterdays post of altering the Fremantle Pants into a high waist pant. If you haven't already read it - you can see it here.  I mentioned in my last post that I'd be making this version into shorts. I already have so many pairs of Fremantle Pants in heavy rotation and now that it's coming into summer here, these pasty legs of mine need to see some sun. Please don't be confused if you see the pattern pieces and instructions interchanging between shorts and pants. This won't affect the rest of the tutorial....