• Homme Wrap • Pattern making • Pattern Tutorial • tutorial
Hey mates, today I'll be showing you how I would do a FBA on the Homme Wrap. First things first, do you need an FBA? There are a few ways to tell if you need to do an FBA. If your full bust measurement is larger than the full bust measurement that corresponds to your high bust measurement in the size chart. Also, if you've sewn a toile and there is tightness in the bust, the fabric is pulling forward at the front armhole, or there are drags lines radiating out from the bust. It's always worth checking the finished...
---
Hey mates. New to the layers option for PDF's? The layers option allows you to print only the size/s you want - saving on ink and making it easier to see what lines you need to cut out. Here's a quick guide on how to use them when printing off your sewing pattern. The newer Elbe Textiles patterns all feature the layers option and I am currently in the process of updating the older patterns to have this too! Thanks for your patience while I get this done. First things first, if you've purchased a pattern and want a hand downloading...
---
If you're new to the world of digital sewing patterns (or new to Elbe Textiles and want a bit of a hand with the process) I've made a step by step guide for you. It's so simple. All you need is access to a computer and a printer - either your home or office printer, or you can take the files to your local copy shop where they can print it for you.  First things first, head to the SHOP section of the website, find a pattern you like and complete the checkout process.  Once you have successfully completed the...
---
• Fremantle Pants • Pattern Tutorial • Trigg Shorts • tutorial
I get a lot of feedback that my pattern instructions are clear and easy to follow, but I know that some techniques are better shown over video. Which brings me to my first (poorly filmed) video tutorial. Watch me in all my awkward glory, showing you how to sew the waistband for the Fremantle Pants and Trigg shorts. This video is intended as a supplement to the written and illustrated instructions that come with the sewing patterns. It's not a standalone tutorial. So if you're keen, you can buy the patterns here! 
---
• maynard dress • Pattern Tutorial • Sew along • tutorial • zero waste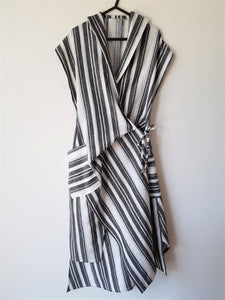 Hey folks, this is a post for anyone who's purchased the Maynard Dress and wants a little extra visual info! I wouldn't recommend using this blog post in place of the PDF instructions - as the PDF is filled with clear, easy to understand line drawings. Consider this post supplementary! If you haven't already checked out the blog post on cutting out the Maynard Dress - you can find it here. I've used gorgeous fabric from The Fabric Store for this sew-along. I wish I'd checked the fibre content when I was at the shop so I could let everyone know...